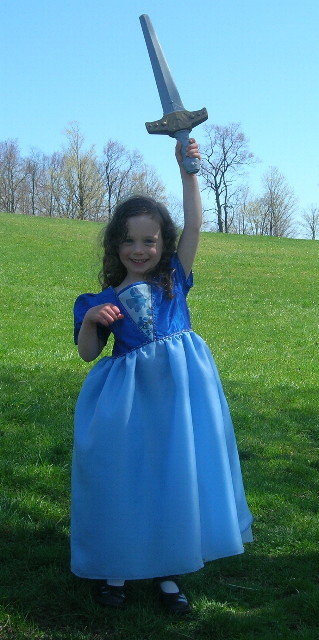 Deirdre struck this pose, and declared, "Today is the bestest day!" It's her on her birthday, and she is wearing the present I gave her, a fancy dress. She perfectly accessorized the outfit later on in the evening with her chicken hat (which I made her last year) and my pair of uber-cool sunglasses. Unfortunately, no picture of that–I was busy putting her birthday cake together.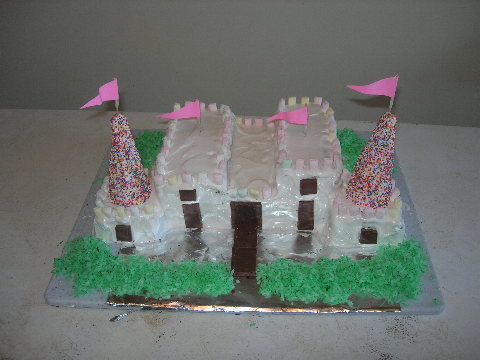 This cake is from a Betty Crocker Kid's cookbook. As kids, we coveted this cake. Rundy claims Mom actually even made it for him–twice–but I don't remember it, so it doesn't count.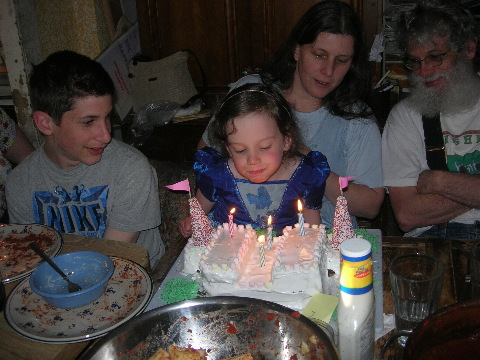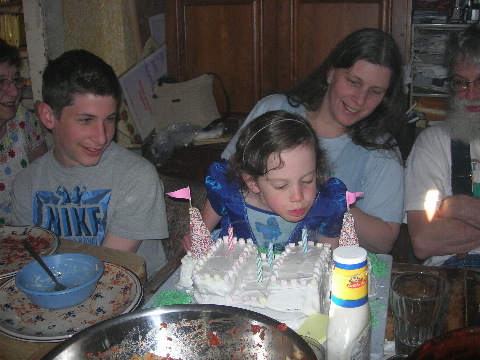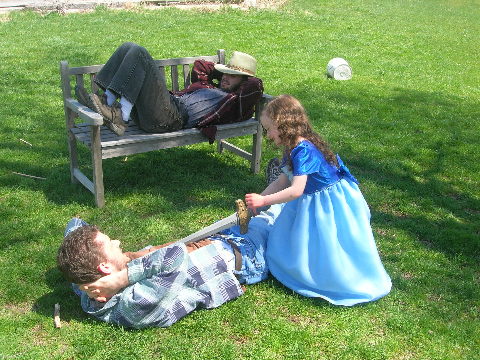 Us older kids were hanging around in the yard talking and laying about. Rundy found the bench as a very comfortable bed, and Arlie was trying to relax. But Deirdre needed someone to whack, and he was handy.
Deirdre's birthday always seems extra significant to me, because it was such a monumental time in my life. While Mom was pregnant with Deirdre (the first incredible thing was that she was predicted to be a girl, and after 5 boys straight in a row, that was pretty unbelievable), we started renovating our bathroom and laundry room. I was contacted by some neighbor's to throw Mom a surprise baby shower, complete with a group gift.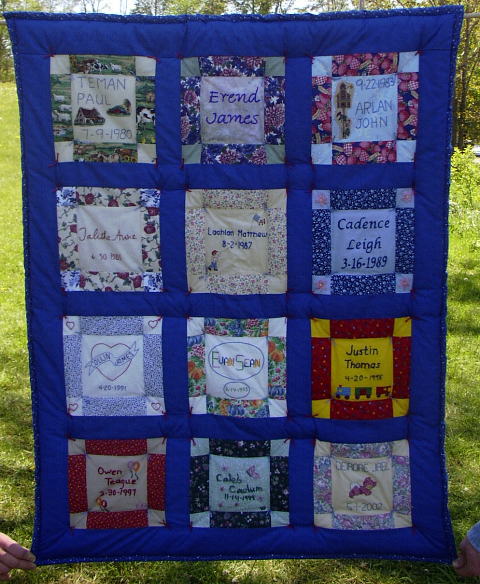 I made and embroidered the block with Cadie's name, but much more difficult was trying to co-ordinate the whole project–and keep it secret from Mom.
Then Mom was put on bed rest due to complications with the pregnancy, and it quickly moved to requiring her to stay at the hospital. Although we all shared the work–we took turns cooking supper, and putting the kids to bed and such–I think it was probably more emoitionally straining on me than on many of the other older kids, as I felt responsible to be "Mom" in her stead. Besides Mom not being there, it also meant frequent trips to the hospital (and the flurry and hustle of getting everyone together and in the car). On top of all of this was the emotional stress that something wouldn't go right for either Mom or the baby.
Deirdre Jael Purdy was delivered by c-section May first, four years ago, and it was amazing when she came home.
Unfortunately, all was not over yet. Deirdre's billiruben levels were much too high, and she had to be put on the billi-belt, as well as going in for many routine blood checks. (This is how they draw a blood sample. The prick the baby in the heel, and then squeeze and squeeze and squeeze. If they can't get enough blood that way, then they go and get a blade, and make a small slice in the heel, and squeeze and squeeze and squeeze. In the meantime, the baby screams bloody murder loud enough to be heard in the waiting room, where all waiting people try hard not to think about what on earth they are doing to that poor baby.)
Nonetheless, Deirdre was a cheerful baby, and she smiled early and often. In this shot she is about 2 months old.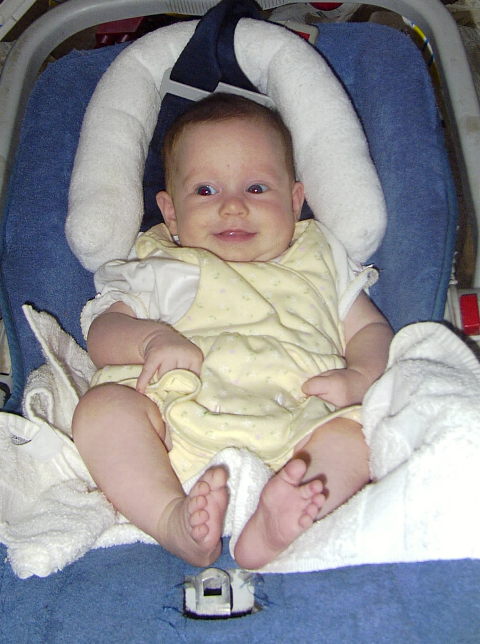 As soon as she learned to crawl, she was in motion non-stop, and almost always with a big grin on her face, and making excited shrieks and exclaimations.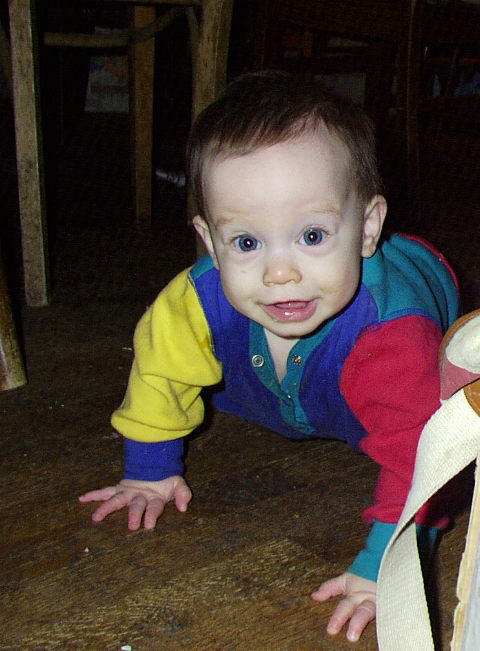 Things haven't changed too much–she's still always moving, usually smiling, and very vocal. She makes up songs on the spot (long, long songs), tells stories to herself or whoever will listen, examines things intently, and informs me that someday she's going to grow up to be big.
"Oh, really?" I say.
"Yep! Even as big as. . .as big as. . .even as big as you Titi!"
(She sets her goals low. I'm barely 5′ 1". Everyone is taller than me!)