Caleb lost his first tooth!!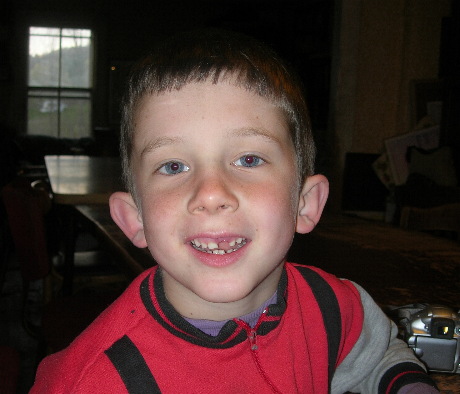 Deirdre is the only one who still has all her baby teeth!
The first batch of baby chicks has arrived!!
They will quickly turn into meat chickens for the freezer, but right now they're fluffly little balls that scurry around.
Dad and Teman are taking a week off!!
Since both of them are home all week, it's easy to confuse one's self into thinking it's the weekend. Teman just finished two weeks of working over-time, so he's particularly glad to get his time off.
Lachlan survived his presentation for his computer repair class!!
He wasn't looking foward to it, and was very happy when it was over. He was surprised at how well it went over with the class. (His topic was PNG as the superior file format for photo hobbiests.)
Frost predicted for tonight!!
I usually predict our last frost as coming in the first week of June, but this may well be our last frost of the winter. I do have cold weather plant already in the ground and growing (peas, lettuce, spinach), as well as a bunch more waiting to go in (lots of broccoli and leeks). Meanwhile, the light stand is all ready full to over flowing with tomatoes, basil, and other tender plants.