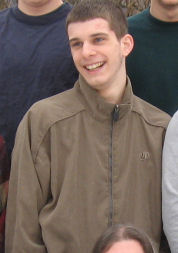 Age 21 (as of March 2013)
This is me.
I enjoy acting weird and silly, and I like to make things.
I am currently going to Broome Community College, working toward my 2 year degree in engineering science, and then I will transfer to a 4 year college to finish my degree, probably in Civil Engineering. My current long-term goal is to get a PE license for Civil Engineering.
I can juggle up to 6 balls, and am learning to do some tricks on a pogo stick. I made a video of myself juggling/pogoing and put it on youtube a while ago:

If I had a lot more free time, I would probably try to learn some parkour.
For those who are not familiar with parkour:
http://en.wikipedia.org/wiki/Parkour